News
Eavesdrop on Renie Rivas calling Misha to talk about how pet adoption is like dating apps in all the worst ways.
Ring Ring! with Renie Rivas on Spotify and Stitcher
Hear Misha talk to Dennis Hensley about how social media is like playing a game of emotional roulette that you--GASP!--don't HAVE to play??
FAQ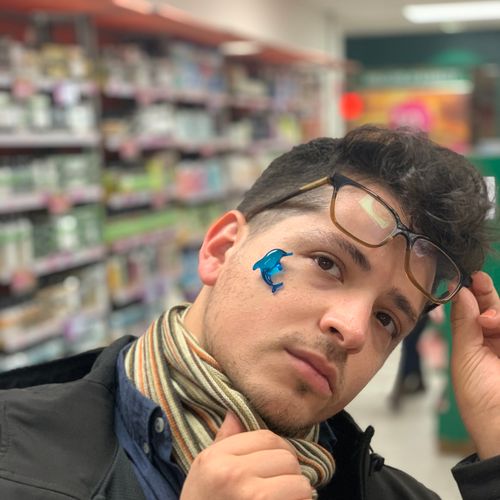 Got Questions??
Dolphin of the Land has answers to several of your questions, including:
How gay are dolphins?

What exactly happened to Mike Pence?

Who's allowed to say what F-word where?

How does sex work, and how does sex not work?

DO queer men find straight men attractive? If so, why even??

Is there ever a legitimate excuse to wear fingerless gloves?

Why does most Christian Music sound like mid-2000's Coldplay all of the sudden?

…and so much more!!!
A self-described "SJW" comedian, Misha jumps from devastating political realities to goofy word-play with a swiftness that turns uncomfortable subjects into…well, equally uncomfortable jokes - but funny in that way that makes you think while making you laugh...  
… Especially if you're a straight cis person—whoo-boy, does Dolphin of the Land have a lot to teach you through laughter-osmosis. Gay Camps in Chechnya, the Sex Lives of Sea Creatures, Canceled Uncle Jokes…  
It's all a little extra—He's all a little extra.
Press Kit
Track 03 from Dolphin of the Land, "I Am the Lizard Queen; No but Really, What Happened to Mike Pence?" as visualized by Misha D. in collaboration with editor Ben Chinapen.
Misha D. on Ultimate Countdown on International Sony Network, talkin' smack.
Misha D. on Ring Ring! with Renie Rivas
Ep. 03 Sweet, Sexy White Jesus Heaven
(from the episode description):
Comedian Misha D. illustrates how pet adoption apps are like dating apps in the worst ways. Segues include the perks of passing for eight, why CERTAIN plagues HATE this, and founding a Queer secular church with his fiancé.
Actress/comedian Renie Rivas (The Loud House, Fresh Off The Boat, Mighty Magiswords) presents recordings of private phone calls with friends in entertainment, comedy, the death care industry, and gay adult films in Season One of this eavesdropping-based podcast.
John Taylor (@johntaylorshow) ever so graciously provided the pre-show opening set, pictured here with Misha D. (in his finest Dragonball Z attire.)
Promos for the live album recording to benefit RAICES Texas to provide legal help to kids and families separated at the U.S. Border.